Fantastic product, easy to purchase online, great communication and super quick delivery (delivered less than 24 hours after product was ordered)
Robert Barden | Senior Administration Officer
Department of Aboriginal and Torres Strait Islander and Multicultural Affairs
---
Afternoon Joanne, The furniture dolleys are working exceptionally well thank you.
Regards, Tricia
---
Hi Lee,
Thank you so much Lee! Received my cart WOW! You guys are awesome such professionals. You really make people happy and shocked. I ordered this morning received after lunch. So happy with my cart.
Warm Regards, Maria Franjesevic
---
Hi Joanne,
Yes, our Rubbermaid sweepers are working great and our staff enjoy using them.
Thank you,
Scott McTiernan
---
Hi Joanne,
To my knowledge the trolley is working fine.
I appreciate you following up on our satisfaction!
Have a great day
Kind regards,

Penelope Wakefield
---
Hi Joanne
We are very happy with the two trolleys we purchased last year.
Actually there are a lot of these rolling around our campus at the moment. It makes it much easier for teachers to cart resources from one campus to another.
Cheers Vicki Middleton
---
Hi Jody,
As I mentioned in our brief chat, I was very pleased with the experience of ordering from your organisation.
While it was a basic product order completed on your website, the whole process was surprisingly simple, very efficient, and your follow up today shows a level of customer focus that I rarely experience.
I order a lot of goods and services both personally and professionally and am regularly annoyed with having to chase up, fix up, replace, return and even cancel because suppliers and merchants just cannot seem to get it right.
With RJ Cox, I found your website easy to navigate. It allowed me to trawl your product catalogue quickly and find what I was looking for plus a range of items of interest. The ordering and payment process was very quick and simple to complete. I received the full and complete order very promptly, and furthermore it was correct the first time.
Thank you for your call today and well done to you and the team. I look forward to ordering from you in the future.
Kind Regards, Matthew Gray
---
Just a quick note to let you know that the cart was delivered in quick time and arrived as promised. It was a little daunting to put together but Even I (mechanically challenged) managed it fairly quickly – helps to look at the diagrams and follow the process, My manager uses the trolley every day and appears very pleased with the cart.
Kind regards,
Rosie
---
Jody,
Thank you for your follow up in terms of the RuXXac Carts which I had purchased for 6 of my trainers to assist them when setting up to teach First Aid Classes. The Carts have been fabulous to simply place their manikins on them and have one trip to the training room rather than 3 – 4 trips.
My trainers have phoned and thanked me for them as it simply makes their life easier and far more efficient in moving from one training venue to another.
Many thanks
Nance
---
Hi Jody – in response to your telephone call – the service provided by RJ Cox Engineering was brilliant!
The online order system was easy to use, and it was great to get the order confirmation email straight away, followed by payment confirmation soon after. Delivery was within the time specified (in fact I think it arrived sooner than I expected) and I am really happy with the Clax Cart Trolley.
Thanks for providing great service and a great product!
Cheers
Wendy Bowes
Centre Executive Officer
Graduate Research Centre
University of South Australia
---
We bought a stair climber on barter in the very beginning for about $9,000. Here is a testimonial and you can Quote Me
RJ Cox have really good stuff and are very pleasant to deal with. Nice to see an Aussie company who has a pride in quality.
regards
John Hundy
Spiderbox "The Telco You can Talk to!"
---
Hello Trish,
I received my order today and thankyou for your promptness in arranging it for me. Thankyou very much for the gift you also sent. The candle smells gorgeous.
Kind Regards
Kerrie King
---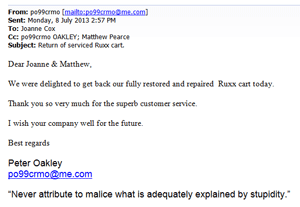 Dear Joanne & Matthew,
We were delighted to get back our fully restored and repaired Ruxx cart today.
Thank you so very much for the superb customer service.
I wish your company well for the future.
Best regards
Peter Oakley
---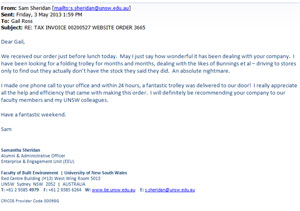 Dear Gail,
We received our order just before lunch today. May I just say how wonderful it has been dealing with your company. I have been looking for a folding trolley for months and months, dealing with the likes of Bunnings et al – driving to stores only to find out they actually don't have the stock they said they did. An absolute nightmare.
I made one phone call to your office and within 24 hours, a fantastic trolley was delivered to our door! I really appreciate all the help and efficiency that came with making this order. I will definitely be recommending your company to our faculty members and my UNSW colleagues.
Have a fantastic weekend.
Samantha Sheridan
Alumni & Administrative Officer
Enterprise & Engagement Unit (EEU)
---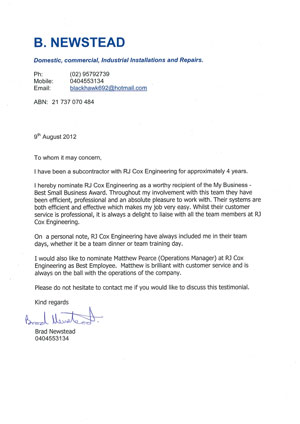 Hi Jo.
As the small buisness awards are here again,
I would like to nominate your company as per my attached letter.
Please enter my letter for your nomination.
Thanks again for the flexibility within your team.
Kind Regards.
Brad.
B.Newstead
---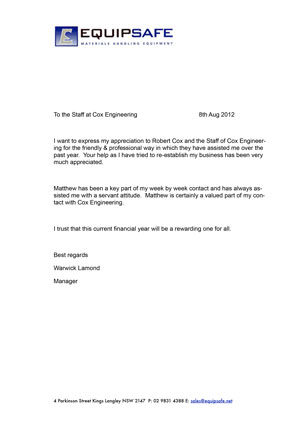 I want to express my appreciation to Robert Cox and the Staff of Cox Engineering for the friendly & professional way in which they have assisted me over the past year. Your help as I have tried to re-establish my business has been very much appreciated.
Matthew has been a key part of my week by week contact and has always assisted me with a servant attitude. Matthew is certainly a valued part of my contact with Cox Engineering.
I trust that this current financial year will be a rewarding one for all.
Best regards
Warwick Lamond
Manager - Equipsafe
---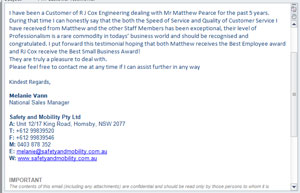 I have been a Customer of R J Cox Engineering dealing with Mr Matthew Pearce for the past 5 years. During that time I can honestly say that the both the Speed of Service and Quality of Customer Service I have received from Matthew and the other Staff Members has been exceptional, their level of Professionalism is a rare commodity in todays' business world and should be recognised and congratulated. I put forward this testimonial hoping that both Matthew receives the Best Employee award and RJ Cox receive the Best Small Business Award!
They are truly a pleasure to deal with.
Kindest Regards,
Melanie Vann
National Sales Manager
Safety and Mobility Pty Ltd
---