Housemaid Cart - Small Room Service Trolleys
Housemaid Cart - Small Room Service Trolleys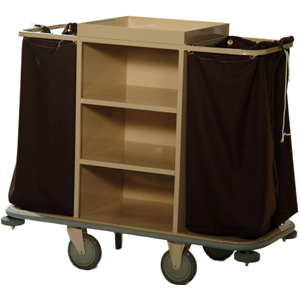 Price:
AUD $1,153.90
(Ex GST AUD $1,049.00)
Cox Housekeeping Trolley is designed to carry bathroom and bedroom amenities, cleaners and cleaning utensils, replacement bedding blankets & sheets etc.
Cox Housekeeping Trolley Features
Equipped with two full size linen bags for the collection of dirty linen and towels.
Linen bags manufactured from sharkskin material, which are rip/mould proof and washable
Strong Fully Welded Body.
Three useable centre compartments (420mm wide x 460mm deep x 240mm high)
Mounted on 2 fixed and 2 swivel 200mm diameter Non-marking grey rubber castors
Base is surrounded with a non-marking D buffer to prevent scuff marks if the trolley hits a w.all.
Almond Ivory Powder coated finish.
Dimensions: 1150x550x1010mm
Weight: 32kgs
Modifications & Accessories available for Cox small Housemaid Cart
Additional Full Sized Bags (For additional Linen collection) Half Size Bags
4 x 100mm dia Corner Spinning Buffer Wheels (Pictured)
Lockable Top Box 100mm or 150mm
Top box can have dividers to separate contents
Sliding Drawer Under Top Box
Lockable Doors (price range varies)
Nylon Castors - Ideal for fully carpeted areas
Pneumatic Castors - Grey (non marking) or Black ideal for outdoors areas
Other Powder coating colours available on request - APO Grey, Black, White Saturn, Precious Silver Pearl are also common alternatives.

Housemaid Carts Housekeeping Trolleys Range PDF
Recommended Products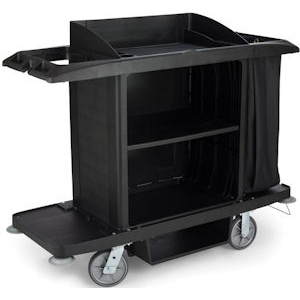 Rubbermaid 6189 Housekeeping Trolley
Price:
AUD $1,357.40
(Ex GST AUD $1,234.00)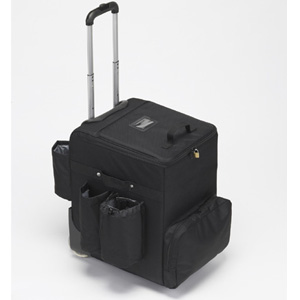 Mobile-Pack Large Room Service Bags
Would you like to know more?
If you'd like more information or if you have any enquiries about the
Housemaid Cart - Small Room Service Trolleys
, please
call +612 9457-2700
or fill in this form and we'll contact you.
* Required fields. Your
privacy
is assured.