Fallshaw Liftmaster - Rugged Binlifter - Manual
Fallshaw Liftmaster - Rugged Binlifter - Manual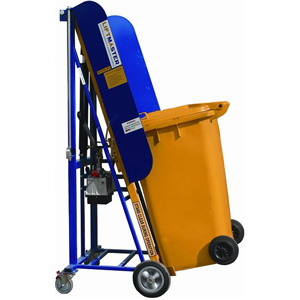 Price:
AUD $6,160.00
(Ex GST AUD $5,600.00)
Fallshaw Liftmaster Manual Rugged Binlifter
Safe lifting capacity of 100kg
Lifts 80L, 120L, 140L and 240L bins (manual adjustment)
Hydraulic hand pump operation (no sparks)
Fits through internal doorways
The Rugged Binlifter - Manual is designed for maneuvrability. The small foot print and lightweight combined with spark-free manual operation makes it perfect for building or constructions sites.
Fallshaw Liftmaster Manual Rugged handpump Binlifter is a manual operation and uses a tough hydraulic pump (similar to a car jack).
This unit is designed for bins weighing up to 100kg and is adial for around 5-10 lifts a day.
The lifting action is a full swing top operation which enables it to be compact in size. For frequent lifts per day, we recommend the powered unit.
BLHP1500 Manual Binlifter 100 for 1500mm high bins - Dimensions 850L x 850W x 1700H
BLHP1800 Manual Binlifter 100 for 1800mm high bins - Dimensions 850L x 850W x 1976H
BLHP1500LL BHLP1500 Lid lifter compatible
BLHO1800LL BHLP1800 Lid lifter compatible
Would you like to know more?
If you'd like more information or if you have any enquiries about the
Fallshaw Liftmaster - Rugged Binlifter - Manual
, please
call +612 9457-2700
or fill in this form and we'll contact you.
* Required fields. Your
privacy
is assured.