Cam-Lok Key Operated Below Ground Removable Bollards
Designed to protect businesses and assets from Damage and from costly "Ram Raids".
Freestanding or Roller Door models available.

Features of Cam-Lok Key operated Below Ground Removable Bollards
Highest quality "Bi-lock" removable core lock mechanism

Security registering keying for long term security of your assets

FREE STANDING MODEL for shop front or public open space installations.

90mm ROLLER DOOR MODEL with heavy duty door assembly:
  Post locks the door down to the ground for maximum security against ram-raiding or levering-up of the door.

Core Drilled (CD) or New Concrete (NC) Inground Sleeves. (ordered separately)
Cast Aluminium Caps and Handle powdercoated silver-grey
3 Finishes: Galvanised, Galvanised & Powdercoated or 316 Marine Grade Stainless Steel also available - freestanding only
Storage units for idle posts available (sold separately)
* The Bi-Locks are very expensive, making up a substantial part of the overall cost.
While cheaper locks may reduce the initial investment, it compromises the effectiveness of the bollard and the long term security of your assets *
Order Codes:
see table below
Specifications of Cam-Lok Below Ground Removable Bollard
Steel Post - 5mm thick wall for 90mm & 140mm dia posts
Hot Dip Galvanised
Hot Dip Galvanised with Safety Yellow Powdercoating
- custom colours available upon request P.O.A
Stainless Steel Freestanding model also available Click here
950mm or 1050mm above ground
200mm below ground
Posts range from 9 kg to 21 kg
Sleeve - 3.0 kg
Internal locking mechanism with high security cam-loks & registered keys
In-ground sleeves for core-drilled (CD) or new concrete (NC) footing
(sleeves required for installation - sold separately)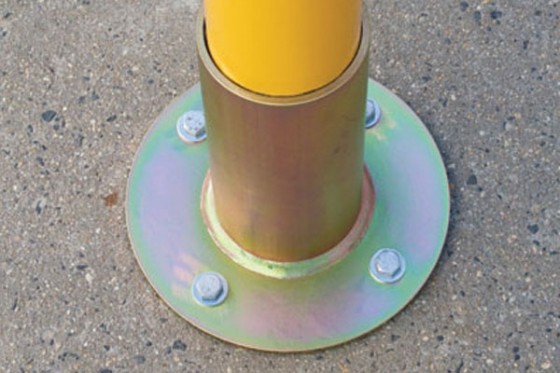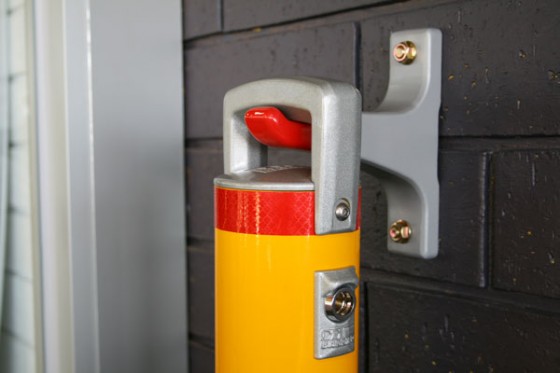 Roller Door Model  Surface Mount Holder Wall Mount Holder
Part No.
Bollard dia
Height Above Ground
Depth Below Ground
Wall thickness
Weight (kgs)
Finish
NC Sleeves
Sleeve Height
CD Sleeves
Sleeve Height
BCL90

90

950

200

5

12.3

HDG+PC

BCL90S-NC

225

BCL90S-CD

425

BCL90-G

90

950

200

5

12.3

HDG

BCL90S-NC

225

BCL90S-CD

425

BCL90RD

90

950

200

5

12.5

HDG+PC

BCL90S-NC

225

BCL90S-CD

425

BCL90RD-G

90

950

200

5

12.5

HDG

BCL90S-NC

225

BCL90S-CD

425

BCL140

140

1050

200

5

21

HDG+PC

BCL140S-NC

225

BCL140S-CD

425

BCL140-G

140

1050

200

5

21

HDG+PC

BCL140S-NC

225

BCL140S-CD

425

BHH

Wall Mount Bollard Holder

BCL90H

Cam Lock 90mm Surface Mount Bollard Holder

BCL140H

Cam Lock 140mm Surface Mount Bollard Holder

BCLKEY

Cam-Lock additional registered key

All dimensions are in mm (excluding weight)
NB: Each order of one or more bollards with supplied with TWO registered keys - Additional keys sold separately