Mobile Height Access Work Platform, A highly stable, work platform which is easy to manoeuvre.
Use for Order picking, Maintenance, Warehousing
Features of Mobile Height Access Work Platform
Platform heights from 470mm to 2800mm
Zinc Plated Mild Steel Finish
Generous Base Width & Length,
Step Depth 150mm,
Vertical Rise between steps 235mm .
The Easy Lock System locks the ladder firmly in place when the bottom step is lowered
transferring the weight of the two swivel castors to the fixed legs.
Raising the bottom step returns the weight to the castors for mobility
The easi-lock is a positive acting cam mechanism.
Fold out arms provided for 9-12 step platforms for extra safety
GTS29/2 Model Pictured
Aluminium or Stainless Steel now Also Available (Priced on Application)
Fold Out Stability Arms for extra stability (Priced on Application)
Australia Wide Delivery Available (Please Ask for a Shipping Quote)
AS/NZS 1892.1:1996
NB: These Ladders are supplied in a knock down form for shipping purposes and require assembly. RJ Cox can supply your unit Assembled for Sydney Metro Deliveries Only. This Service is Priced on Application.

Order Picker Mobile Work Platform Range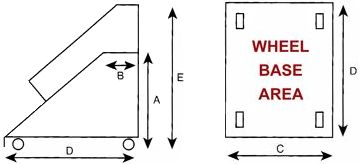 Model

No. of Steps

A mm

B mm

C mm

D mm

E mm

Weight

GTS29/2

2

470

735

810

975

1420

58

GTS29/3

3

705

735

810

1105

1655

61

GTS29/4

4

940

735

810

1295

1890

64

GTS29/5

5

1175

735

810

1467

2125

66

GTS29/6

6

1410

735

810

1645

2360

73

GTS29/7

7

1650

735

810

1820

2600

84

GTS29/8

8

1880

735

810

1990

2830

95

GTS29/9

9

2130

735

810

2155

3080

114

GTS29/10

10

2300

735

810

2320

3400

133

GTS29/11

11

2560

735

810

2500

3600

150

GTS29/12

12

2800

735

810