Currently out of stock until Early 2022
Spill Containment Caddy offers convenient handling and dispensing of hazardous chemicals.
Fully compliant with EPA and OSHA regulations.
Outdoor Caddy also available.
Features of Gator Spill Containment Caddy
Ideal for managing either 205 or 60 Litre drums
Has Nylon strap to hold drum securely in place.
Transports up to 275Kg.
Loads easily and safely, minimising back strain and injuries.
Ergonomically designed for tipping, with back kick-plate positioned to assure weight is not absorbed by the spinal column.
Saves on compensation, injury and insurance costs
Big rounded handles accommodate heavy work gloves for comfortable gripping.
Large 254mm wheels roll easily over shop floors.
Spill Control - The over-sized, 250 Litre spill sump will contain chemical spills, even if the drum leaks or splits a seam
Open View Sump design makes clean-up simple and quick.
One piece double-walled body adds strength and eliminates leaks.
Spills are contained within unit, not between walls as in similar products.
Chemical Resistance - Gator protected polyethylene construction provides
maximum chemical compatibility and resistance preventing corrosion
One piece double-walled body adds strength and eliminates deterioration,
assuring a long lifetime of service.
Outdoor Caddy (pictured below) offers all the convenience and protection,
with the additional advantages of pneumatic tyres.
The outdoor caddy moves smoothly and steadily over rough, bumpy terrain.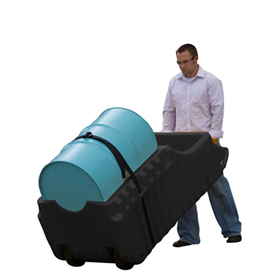 | | | | | |
| --- | --- | --- | --- | --- |
| Model No. | Description | Litres | Capacity (Kg) | W x D x H |
| 28665 | Outdoor caddy | 205 | 275 | 81 x 184 x 68cm |