PALDISC Pallet Turntable Is the only ultra low turntable, which can be loaded or unloaded using a hand pallet truck. It can also be loaded using a forklift.
Is ideal where space is limited, on mezzanine floors, or in clean areas such as in pharmaceutical or food preparation areas.
Features of PALDISC Pallet Turntable
Gives 360 degree access to hand truck
Is easy to rotate, even with a full 2000kg load
Can be fitted with a motor for power assisted rotation
Solid disc top can be used with or without pallets
Less back stress improves work efficiency and reduces risk of injury.
PALDISC is the lowest turntable on the market
Total height of only 22mm and with a built-in shallow ramp
Also available without perimeter ramp (See below)
Tests have shown PALDISC to be the easiest to use of all low profile turntables.
Is ideal where space is limited
The PALDISC can be relocated by using a Light Tine Lug , which can be screwed onto the top and can be lifted with fork lift tines.
Specifications for Paldisc Pallet Turntable
Turntable height: 22mm
Turntable diameter: 1100mm
Overall diameter: 1240mm
Total weight: 100kg
Maximum capacity: 2 tonnes
| | | |
| --- | --- | --- |
| Product Code | Description | Availability |
| PALDISCWR | Paldisc (with Ramp suited to pallet jack) | 1 Week |
| PALDISCSQE | Square edge Paldisc (no Ramp) | 1 Week |
| TLUG | Tyne Lug (for forklift relocation) | 1 Week |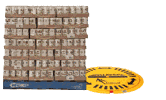 Designed to allow PALDISC to be relocated using a hand pallet truck only.
The lever will lift one edge to allow a pallet truck to be rolled underneath.
As the lever is removed, the PALDISC will then settle on the pallet truck.