Step Safe allows you safely reach high places. Wide base platform and no-slip steps mean your foot stays where you put it.
Supplied with or without anti skid rubber stops depending on your requirements
Available in Yellow or Orange.
200kg Maximum Weight Load Carrying Capacity
Step Safe 490x490mm Base 360mm High Rounded Edges - Top Platform 390x390mm
Also Available Safe-T-Step 475x475mm Base 360mm High Square Edges
Made from 705UV Rotationally Moulded Polyethylene.
It has high ESCR, High Chemical Resistance & toughness and Stiffness.
High level of UV Stabiliser to give protection for outdoor use.
Replacement rubber stoppers also available (Sold individually - 4 required in a set)
With or without rubber stops???
If you are working on a slippery surface and don't want the step to move you will require the rubber stops.
If you require to be able to kick the step along or on carpet you would not require the Rubber Stops
Product Codes
E1513B-G08 Step Safe Orange without Rubber Stoppers
E1513B-G20 Step Safe Yellow without Rubber Stoppers
E1513A-G08 Step Safe Orange with Rubber Stoppers
E1513A-G20 Step Safe Yellow with Rubber Stoppers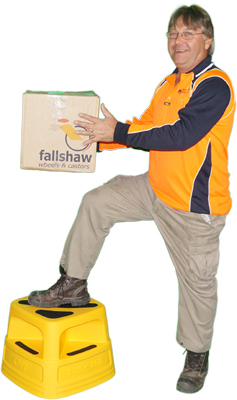 Regular clientele for Safety Steps includes Woolworths, Coles, Liquorland, Bunnings, Drillers World, David Jones, Myer, Target, Mitre 10, IGA, Airports, Warehouses, Storage Facilities and General Business