Please Note: Many Bailey Ladders are currently being discontinued by the manufacturer. Please contact our office to confirm that the ladder you require is still available prior to ordering.
Bailey RFDP Fibreglass Dual Purpose Ladders are Ideal for the tradesperson or serious DIY requiring a Dual Purpose Stepladder that is highly versatile and easily converts from a stepladder to a single ladder.
RFDP fibreglass range offers the benefits of non-conductivity, strength, stability and durability. The fibreglass construction makes this range of ladders suitable for electrical applications.
Industrial Duty Rated. Designed for use on industrial work sites
120kg Load Rating
Strong, fibreglass construction
Electro Safe
Highly versatile and easily converts from a stepladder to a single ladder Strong and safe straight ladder position latched by heavy duty locking hooks and a full step overlapping construction
Punchlock tread design and deep fascia top caps increase torsional rigidity of the overall ladder frames.
Slightly tapered back legs provide added stability when used as a stepladder
Anti-slip rubber Boots for maximum grip on any surface and protection of the stiles
Made to Australian and New Zealand Standards AS/NZS 1892.3
| | | | | |
| --- | --- | --- | --- | --- |
| Name | Part Number | Ladder Size | Reach Height | Weight |
| Bailey RFDP 6 | FS10480 | 1.8/3.2m (6 foot /10 foot) | 2.8/4.2m | 10.1kg |
| Bailey RFDP 7 | FS10481 | 2.1/3.8m (7 foot /12 foot) | 3.1/4.8m | 11.8kg |
| Bailey RFDP 8 | FS10482 | 2.4/4.4m (8 foot / 14 foot) | 3.4/5.4m | 13.4kg |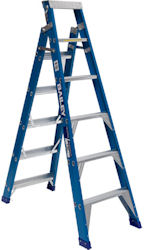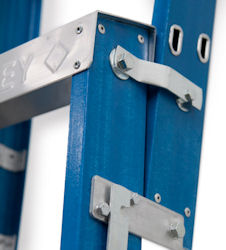 Bailey RFDP Fibreglass Dual Purpose Ladder
For heavy duty industrial trade/commercial use by professional
contractors, tradespersons, workplaces, serious DIY/handyman. Made to
the requirements of the Australian and New Zealand Standards AS/NZS1892