Bailey FSE Fibreglass Electro Safe Step Ladder / Extension Ladder is ideal for the tradesperson or contractor.
Use in Work sites, Electrical Trades, Building sites, Maintenance, Hospitals, Retail, Warehouse.
Features of Bailey FSE Pro Fibreglass Electro Safe Step Ladder
The FSE offers the benefits of non-conductivity, strength, stability and durability.
Strong Fibreglass Construction - Electro-Safe makes this range of ladders suitable for electrical applications.
Industrial Duty Rated. Designed for use on industrial work sites
150kg Load Rating
Easy Glide rear section for conversion to an extension ladder and can also be used as a leaning ladder
Multi function top cap for tool and part storage
Rear leg adjustments in 300mm increments when in extension ladder mode
Punchlock tread design for increased torsional rigidity of the overall ladder frames
Anti-slip PVC Boots for added safety, stability
V rung as standard for pole/tree work
Made to Australian and New Zealand Standards AS/NZS 1892.3
Specifications of Bailey Pro Punchlock Step Extension Ladder
NEW Product Code

Replaces

Description

Reach Height

Step Ladder

Reach Height Extension Ladder

Industrial Load Rating

Weight

FS13985

FS10444

Pro FG FSE6(1.79m/3.13m)

3.19m

4.13m

150kg

14.0

FS13986

FS10445

Pro FG FSE7 (2.09m/3.73m)

3.49m

4.73m

150kg

15.8

FS13987

FS10446

Pro FG FSE8 (2.39m/4.03m)

3.79m

5.03m

150kg

17.5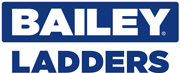 Bailey FSE Fibreglass Electro Safe Step Extension Ladder
For heavy duty industrial trade/commercial use by professional
contractors, tradespersons, workplaces, serious DIY/handyman. Made to
the requirements of the Australian and New Zealand Standards AS/NZS1892.