Numatic NuKeeper, Flexi Front, Low Line Housekeeping Trolley NKL17/FF
One of the Numatic Range of Professional Housekeeping Trolleys. Has all of the design features of larger trolleys, but in a more compact size, suitable for medium to smaller establishments.
Has plenty of shelf space and internal drawers.
Suited to hotels, hospitals and nursing homes.
Features of Numatic Low Line NKL 17/FF
Tough and durable Full Structofoam Base
Hi-mobility AT chassis
4 X 200mm, all terrain, soft ride castors
Four spinning corner wheels to protect walls
Two large shelves and internal 3-drawer storage system
Option - Full length shelf and no drawers
Integrated, Flexi Front, pull out night cover makes cart inconspicuous and keeps contents out of sight when not required
Laundry bag extensions included both ends
Twin Laundry Bags 2 x 100 Litre capacity
Interchangeable Bags with the Servo-X and Servo-Bag systems to give a truly uniform and co-ordinated system
Laundry Bags have 2 large drag handles and top closure system
Laundry bags are easily removed from the trolley when needed
NKL-177FF Specifications
Dimensions Length 1870 x Depth 665 x Height 1115 mm
2 x 100lt Grey Canvas Laundry Bags
1 x Shelf
3 x 10 litre pullout drawers
1 x Flexi Front Cover
4 x 100 mm ( 8 inch) All Terrain Castors
Long shelf with no drawer option available
Supplied Standard with 4 x Swivel Castors

Optional Pneumatic Castors Available -
Please contact us for a quote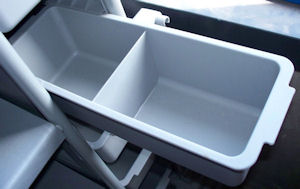 Numatic Amenity Tray

Housemaid Carts Housekeeping Trolleys Range PDF