ProHost Nexus Series Function/Banquet Setup Carts
Deliver everything needed for Functions or Banquets. Carts are customisable, for delivering supplies to function areas.
Features of ProHost Function Setup Carts
Banquet Service items are organised and delivered to functions in "program-loaded" totes and trays.
Furniture grade appearance
Faster function setup and breakdown
2 x Tambour roll up / roll down, lockable doors for security.
Table linen can be delivered directly from ironer/folder, to function dining areas
Optional: Power Assist to transport heavy loads through corridors effortlessly
Prevent back and side strains
Improve productivity by reducing the number of refilling journeys
Improve the visual image of the hotel or resort
Colours: Brown and Black or Charcoal and Black
Dimensions of 40BQ Nexus Banquet Setup Cart
External Dimensions:  123.19 x 64.26 x 141.76cm
Internal Configuration   6 x 4" Totes & 8 x 6" Totes
Prohost equipment utilises rails to support totes. Totes can be placed on the rails in 2" increments.
Please contact us for pricing as all ProHost is Price on Application products are being quoted to suit your specific requirements and fluctuations in the value of the US$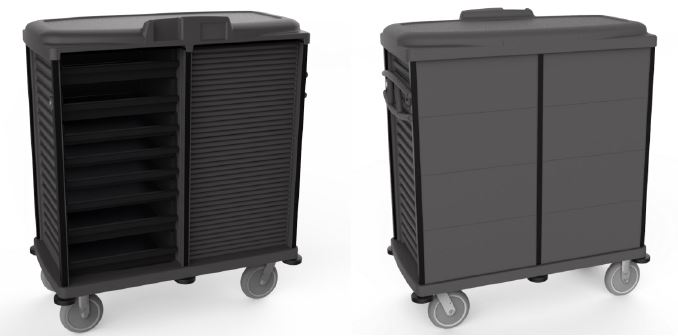 2 x Tambour Doors     Rear View