Numatic XC1- TM Xtra Compact Janitors Trolley
Designed for situations where there is limited space, but where you need ample storage for cleaning paraphernalia, and waste collection, plus the facility for limited mopping.
Features of Numatic XC1 Xtra Compact
Structofoam construction providing rugged reliability
Nutex epoxy coated superstructure

4 x 75mm (3 inch) non-marking castors ensure excellent manoeuverability.

4 x Rotating corner buffers

2 deep tray units.

2 colour coded 6 litre pails.

1 Full size deep 18 litre mop pail with 200g basket to suit most standard mops of this size

Suits Bactiguard Twist mop

Full size Universal Dual Waste System :-

120 Litre dry waste unit which accepts 700 X 1100 waste bags OR

Twin 70 litre waste units which take 575mm X 1000mm for easy, onboard waste sorting

Available Options Sold Separately - 18 Litre Mop Pails - Red, Blue, Green, Yellow
Specifications of Numatic XC1 Xtra Compact Trolley
Top Tray 10L

2 Small 6L Pails

Mid Tray 10 L
1 x 18L Large Pail
4 x 75mm diameter castors
Dimensions 840 x 570 x 1060mm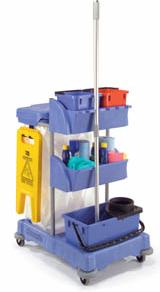 Shown above with extras for demonstration purposes.