CSPN-1A CSPN-01F
Goods Cage for loose or palleted goods. Suitable for both Forklift and Crane use . Choice of Flat Pack or Assembled models.
Features of Crane Goods Cage
Full width gate 1250mm
Pallets up to 1250mm square can be placed inside the cage
Has Forklift Tine Stirrups for transport
Stacking Feet underneath, allow empty cages to be stacked 3 high, or 2 high when full
Assembled model is Standard CSPN-01A
Flat pack can be supplied when required CSPN-01F
Specifications of CSPN-01A CPSN-01F Crane Goods Cage
4 Point Lift
Lift Capacity 1000kg
Stackable
Zinc Plated Finish
Chains not included
Actual weight (Assembled) CSPN-01A 170kg
Freight Weight 730kg
L 140cm x Width 135cm x Height 116cm
Actual Weight (Flat pack) CSPN-01F 170kg
Freight Weight 182kg
Dimensions L 135 cm x W 135cm x H 30cm
(Gate opening 1250mm).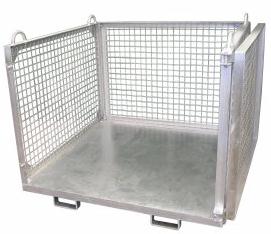 CSPN Drawings and Measurements
Related Product PDF's


FORKLIFT ATTACHMENTS
CRANE AND OVERHEAD LIFTING
QUICKHITCH AND TELEHANDLER
WASTE & STORAGE BINS
DRUM STORAGE SYSTEMS
STORAGE CAGES / TROLLEYS / PALLETS