Cytotoxic Spill Kit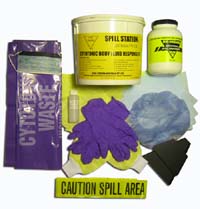 Price:
AUD $109.62
(Ex GST AUD $99.65)
When some patients are undergoing certain drug therapies, there is a risk of cytotoxic body fluids being expelled.
With a strong emphisis on personal protection equipment, this kit will ensure that the spill is cleaned up safely and efficiently.
Ideal for medical and laboratory environments.
CONTENTS
1 of 2.5 Litre Tub of Absorbent Powder
2 of Absorbent Cleaning Cloths
Tyvek Gown
Overshoes
Haircap
2 pair Purple Chemo Gloves
Scoop & Scraper
Clinical Detergent
Cytotoxic Waste Bags
Packed in a 10 Litre Pail
Order Code: ZTSSCBF
---
Would you like to know more?
If you'd like more information or if you have any enquiries about the Cytotoxic Spill Kit please
call +612 9457-2700
or fill in this form and we'll contact you.
* Required fields. Your
privacy
is assured.