Rubbermaid 6186-88 WaveBrake Side Press Combo with Foot Pedal evacuation
WaveBrake Side Press Combo is a huge wheeled bucket, for the largest floor cleaning jobs. WaveBrake design stops water splashing from bucket to floor during use. The integrated Side Press Wringer,with ergonomic design handle prevents strain on workers wrists. Wringer outlasts comparative wringer by 58 times.
Tested to exceed 50,000 wringing cycles. Accepts optional Dirty Water Bucket 9C74, for separation of dirty and clean water, for safer, more efficient cleaning.
Features of Rubbermaid 6186-88 WaveBrake Side Press Combo
Massive capacity for the largest commercial cleaning jobs
Wave Brake stops water splashing out during use
Convenient Foot pedal water evacuation: No lifting required to empty bucket, for worker well-being by helping reduce back strain
High efficiency Side Press Wringer
Lasts 58 times longer than comparative wringers
Tested to exceed 50,000 wringing cycles, average wringers perform approximately 860 cycles
Premium Tubular steel and Structural Web Moulded plastic
4 x Swivel castors
Optional Extra: Dirty Water Bucket, 9C74
Order Code: FG618688 YEL
Specifications of Rubbermaid 6186-88 WaveBrake Mop Bucket
Length: 61cm
Width: 44cm
Height: 97cm
Volume Capacity: 37.9 Litre
Shipping Information
Dimensions: 57cm x 60cm x 47cm
Carton Cube: 0.16m3
Ship Weight/Carton: 10kg
Pack Quantity: 1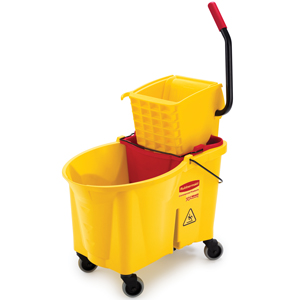 6186 pictured with optional extra 9C74 Dirty Water Bucket