Rubbermaid HYGEN Q850 High Performance, Quick-Connect, Flexi Wand with Green Microfibre Duster. Can also be used with White Hi-Pile Flexible Duster Q852

Flexible Microfibre Dusting Wands remove more dust, mould and allergens from hard to reach places and crevices.
HYGEN Microfibre System is designed to achieve a higher level of clean, to stop the chain of infection.
The System has been proved to eliminate the food source for live pathogens.
Quick Connect Handle converts hand held duster to high reach tool.
Use in Medical Facilities, Laboratories
Features of Rubbermaid HYGEN GREEN Flexible Dusting Wand with Microfibre Sleeve Q850
USE DRY ONLY - GREEN
50cm flexible wand, with microfibre sleeve, bends and conforms to irregular surfaces
Washable duster slides on and off easily
Cleans effectively without water and chemicals
Safer for workers
100% Cut-end Microfibre sleeve reaches higher and into crevices
Able to clean crown mouldings, tops of cabinets, vents and other high areas
Effectively removes dust, dirt and grime
Extremely Durable
Sleeves can withstands 500 washing cycles and 500 drying cycles ( 200 cycles with bleach )
Replacement sleeves available
Features of Rubbermaid HYGEN WHITE High-Pile Microfibre Duster Q852 for hair and larger debris
Use with Dusting Wand Q850
Use DRY or DAMP - WHITE
Traps the largest amount of dust, hair and larger debris
Works for cleaning furniture and bed covers.
Bends and conforms to irregular shapes
Reaches crown moulding, tops of cabinets etc.
Extremely Durable
Washable Duster can withstand 500 washing cycles and 500 drying cycles; 200 cycles with bleach
Replacement Duster available
Convert the hand-held duster to an extended cleaning tool with the Quick-Connect Handles (sold separately)
Order Codes GREEN HYGEN Flexible dusting wand with sleeve. Q85000 BKOO
WHITE HYGEN High Pile Flexible Duster Q85200


Specifications of Rubbermaid HYGEN High Performance Microfibre Flexible Dusting Wand Q850
Dimensions Length 73cm x Width 9cm x Height 4cm

Specifications of Rubbermaid HYGEN High Performance Flexible Duster Q852
Dimensions Length 73cm x Width 3cm x Height 3cm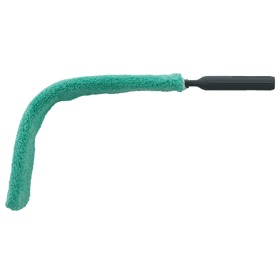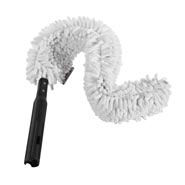 Q850 Q852