Brady BMP71 Portable Cable and Wire Label Printer
Designed to help you save both time and money
The robust design and durability can withstand harsh industrial environments.
Ideal for cable and wire printing in the Telecom/Datacom and electrical industries printing.
Also suitable for printing health and safety signs in processing industries.
Features of Brady BMP71 Portable Cable and Wire Label Printer
Your choice of Labelmark or Markware software
Large graphical full colour display
Allows you to see what the label will look like before printing
Suitable even in low light and outdoor conditions
Built-in design wizards
Material recognition technology
Stores over 100,000 label files
Reduces design time by 50%
Built in touch cell in labels and ribbon, formats the objects on the label, removing guess work
Can create and save multiple labels, then print them all at once, saving waiting time
Long lasting battery and AC/DC charger allow you to take the BMP Printer anywhere it is needed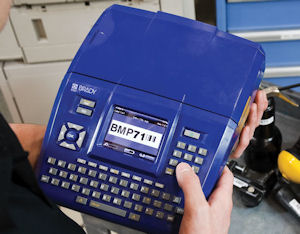 Each printer comes with its own carrying case, AC adaptor, quick charger, battery, cleaning kit, USB cable and your choice of the Labelmark or Markware software.

Brady BMP71 Label Printer Sales Flyer

Brady BMP71 Label Printer Features and Benefits