SP Shelf Bins are strong and robust stackable bins.
When used with a shelf, they give drawer-like access for small parts. They also have a special lip on the rear to securely hang on from the shelf above. They can then be tilted forward for easy access.
Features of SP Shelf Bins
Manufactured from Durable Polypropylene which makes bins waterproof and unaffected by grease.
Wide hopper front allows for easy access and increased visibility
Create compartments with slot-in dividers - sold separately
Back stop allows shelf bins to hang-lock from the rim of the shelf above
Nesting capability for compactus storage if necessary
Handle grip is built in
Moulded Label Holder
Options
Black polypropylene dividers to create up to eight compartments.
Back Stop allows shelf bins to hang-lock to the rim of the shelf above.
Labels to fit into the moulded label holder.
| | | |
| --- | --- | --- |
| Product Code | Product Name | Dimensions (mm) |
| 30120 | Shelf Bin SP | 295 x 105 x 102 |
| 30130 | Shelf Bin SP | 295 x 168 x 102 |
| 30128 | Shelf Bin SP | 454 x 105 x 102 |
| 30138 | Shelf Bin SP | 454 x 168 x 102 |
| 30124 | Shelf Bin SP | 600 x 105 x 102 |
| 30164 | Shelf Bin SP | 600 x 168 x 102 |
| 40120 | Shelf Bin - Divider | suits 105mm wide bin |
| 40130 | Shelf Bin - Divider | suits 168mm wide bin |
| 2685 | Back stop Shelf Bin | |
| 2686 | Label Card Shelf Bin | 75 x 20 |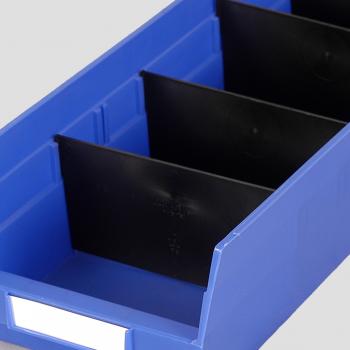 Dividers and Label Card Back Stop