Ladderweld Platform Step Ladders are Highly durable with Superior strength. Designed for professional and DIY use. Have many safety features such as Non slip treads, Wide anti-slip platform and Anti-slip rubber feet.

Designed for professional tradesmen and serious DIY
Use in Building sites, Window cleaners, Painters, Warehousing, Retail
Robust, Heavy Duty construction for long use.
Features of Ladderweld Platform Step Ladders
Industrial Duty Rated.

Deliver high degree of strength and safety

Designed to be used on industrial work sites

Comply with "Working at Heights Legislation" as a Temporary Work Platform.

Heavy Duty, 150kg Load Rating

Strong, aluminium construction

Features fully welded, extra heavy duty stiles and non-slip serrated treads

Fully welded front and rear frames for strength and durability

Wide, aluminium anti-slip platform (490x400mm) for a secure work area

900mm handrail height from platform

Anti-slip rubber feet for added safety and stability

Made to Australian and New Zealand Standards AS/NZS 1892.1
Optional Retractable Castors / Wheels Kits (Spring Loaded)
See Table below for sizes and options.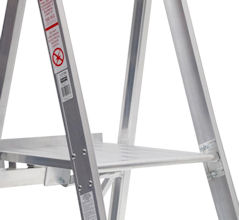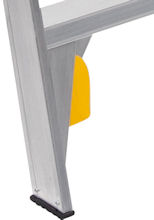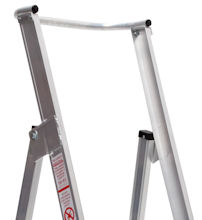 Product Code

Steps

Platform Height

Reach Height

FS10713

2

0.6m

2.6m

FS10714

3

0.9m

2.9m

FS10715

4

1.1m

3.0m

FS10716

5

1.4m

3.3m

FS10717

6

1.7m

3.6m

FS10718

7

2.0m

3.9m

FS10719

8

2.3m

4.2m

FS22971

Wheel Kit Fits 2 - 6ft Platform ladder 2-6 Step

FS22972

Wheel Kit Fits 7- 8ft Platform ladder 7-8 Step
Optional Spring loaded castors