Tallboy Linen Exchange Trolley (LET) for bulk delivery and collection of clean and soiled linen.
8 Models now available, to better suit your needs.
Use in Hospitals, Retirement Villages, Aged Care Centres, Resorts, Motels and other Facilities.
Features of Tallboy Linen Exchange Trolleys
Can be used for delivery of fresh linen, or collection of used linen, or both at the same time.
Shelves can be removed and slotted into the front,
converting the trolley to a large mobile bin
Superior to mesh trolleys
Smooth plastic surface is easy to clean or sterilise
Ergonomic cut out handle slots
Large radius corners
No rust or corrosion - water and chemical resistant
Durable and long lasting
Are light weight and easy to use especially with optional handles
Are very quiet in use No squeaking or rumbling
Flexible and resist denting during use
Less damage to walls and doorways
Many options
Choice of many colours
Standard Features
Two fixed and two swivel 150mm blue rubber castors.
Fitted 3mm Galvanised base plate.
Following options - Priced on Application
Alternative castor configurations available upon request - including brake castors
Poly Shelves which double as front panel converting trolley to a large bin
Bases
Covers - Clip on Weather proof Rip Stop PVC
Castor types 150mm Blue Rubber, 150mm Red Polyurethane
Castor configurations - 2 fixed + 2 swivel brake - 2 fixed + 2 swivel no brake
2 swivel brake + 2 swivel no brake - 4 swivel no brake
Colours Dark Blue, Light Blue, Light green, Lime green, Red, Black, Yellow, Orange, Magenta, Teal or Grey
Document holders for clipboards
Vertical bolt on handles
Hanging rails
Tow Hitch for use with Electric Tug units
Company Logo
Serial Numbering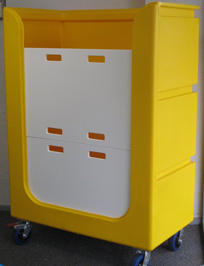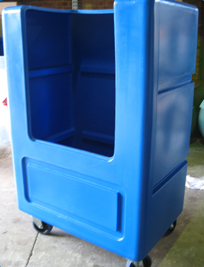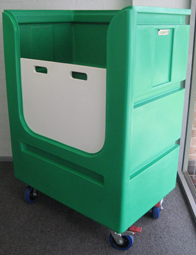 TLET1 Linen Exchange Trolley (Pictured Left)
Built in slot for shelves to slot in front to form a large bin (Shelves Sold separately)
Low cut out front for optimum shelf use for linen delivery
Narrow design for easy doorway access
Dimensions 1140mm Long, 640mm wide 1500mm high + 200mm when configured with dolly, including standard 150mm castors
TLET2 Linen Exchange Trolley (Pictured Middle)
Larger capacity
High cut out front
Wider lip edge for better containment
Large radius corners
Ideal for linen bags and loose soiled linen for easier more hygienic use
Dimensions: 1050mm long, 710mm wide, 1650mm high (including dolly and standard 150mm castors)
TLET3 Linen Exchange Trolley (Pictured Right)
Low profile design for improved vision
Fully open top for max linen access
Built in front slot for conversion to bin for soiled linen ( Shelves available separately)
High front cut out
Dimensions 1050mm long, 710mm wide, 1500mm high (Includes dolly with standard 150mm castors)
TLET4 Linen Exchange Trolley
Designed for maximum manoeuverability and convenience
Smaller. lower profile for improved vision
Narrower to fit through hallways and doorways in laundries and hospitals
High cut design for improved containment of linens
Choice of wire or poly shelves
Slot to hold shelves to convert to a bin
Dimensions Length 740mm Width 740mm height 1500mm (Includes dolly with standard 150mm castors)
TLET5 Linen Exchange Trolley
Open top for easy access
Low cut front for easier use
Large linen capacity
Optional bin fronts fit in slot
Choice of options and colours
Dimensions Length 1050mm Width 710mm height 1500mm (Includes dolly with standard 150mm castors)
TLET6
Similar to TLET1
Has low front for efficient shelf use
Optional covers, bin fronts and shelves
Easy to use as both a linen collection trolley and to deliver clean linen
PLUS optional stainless flatbar handles for easier manoeuvring
Retained lip for improving containment of soiled linen
Recessed cover clips for longer life
Dimensions Length 1400mm Width 710mm height 1500mm (Includes dolly with standard 150mm castors)
TLET7
Large capacity for delivery of bulk deliveries of liens
Narrow width for use in hallways and doorways in hospitals and laundiries
Larger open front
Optional fixed shelves
Top is fully enclosed to keep linen clean
Choice of options and colours
Dimensions Length 1190mm Width 710mm height 1600mm (Includes dolly with standard 150mm castors)
TLET8
Low profile for better vision
Narrower width for easier access through doors and hallways
Option of stainless steel flat bar handle for easier handling
full open top for easy access
High cut out to hold more linen
Choice of many options and colours
Dimensions Length 900mm Width 570mm height 1620mm (Includes dolly with standard 150mm castors)