Electrodrive TUG EVO range of tugs are designed to improve workplace efficiency whilst reducing the risk of serious injuries sustained by manually moving heavy or awkward loads.
Suitable for Airports, Factories, Warehouses, Apartment Buildings and Institutions
The Tug EVO allows a single operator to quickly and easily hitch to a load and move it. The operator walks in front of the load and steers with the tiller, reducing strain on the lower back, shoulders and legs
Tug EVO can be be serviced easily and quickly, ensuring its maximum availability for use in the workplace.
Features of Electrodrive Tug Evo
Capacity: 1 tonne (Evo1T) and 2 tonne (Evo2T) models available
Are able to move heavy trolleys and wheel loads safely and efficiently
Gives operator unrestricted view ahead
Quiet, smooth operation
Zero emissions
Low maintenance
24 Volt DC power
Variable speed drive unit
Electro-magnetic park brake
Ability to easily manage a trolley
Three speeds, Forward and Reverse and emergency stop
Robust steel chassis
Tiller handle steering that folds to reduce space when not in use
Automatic charger
Wide variety of Hitches available - Sold Separately for easy attachment to trolleys P.O.A
NB: Tug Pictured with auto-latching hitch fitted NOT INCLUDED
Simple to use, no driver's licence required
Training and servicing programs available
Comprehensive 12 month warranty on all Electrodrive equipment
Designed and made in Australia
Specifications of Tug EVO
up to 5km/h
1480 (tiller handle down - in use)
610mm
(852mm (handle down - in use)
665mm
140kg
160kg
Australia's leading trolley tug is now significantly improved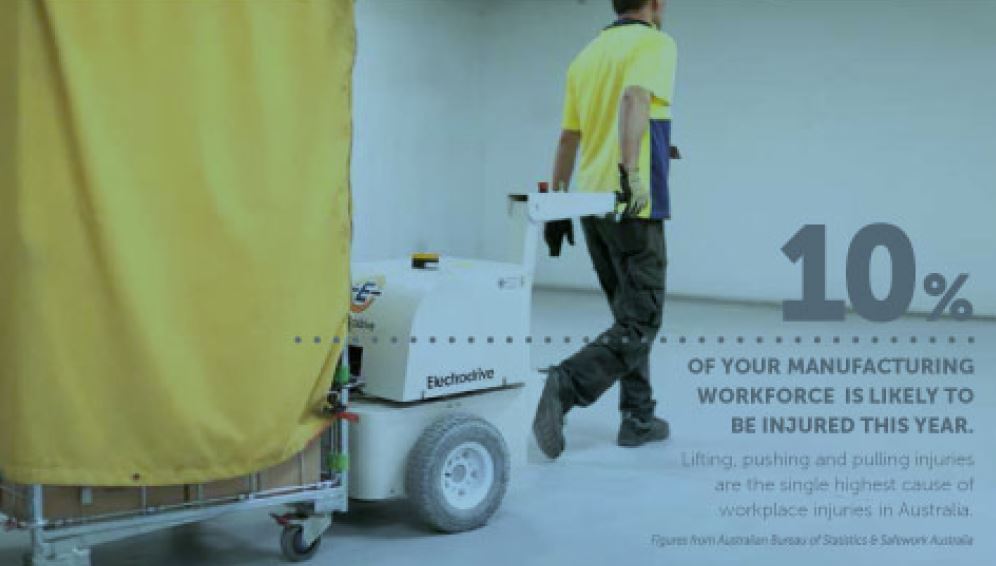 There is NO Safe way to Push Heavy Loads