Channel Rail Barrier System is a modular forklift separation system. Developed for use in one of Australia's largest distribution centres.
A completely modular protective barrier, required no on-site welding during installation and required only basic hand tools to replace damaged components.
Channel Rails key feature is that it had to protect the pedestrians from forklift tines, as forks move about the site.
This latter feature is accomplished by using an outwardly facing 200mm high by 6mm thick galvanised channel to trap the fork tines and prevent them deflecting up and into the pedestrian traffic.
Benefits of Channel Rail Pedestrian Protection System
Quick & simple to install
Completely modular design
Post & rails powder coated safety yellow
All componenets are hot dip galvanised
Floor channel galvanised finish
All fixings supplied
Full range of spare parts available
Protects lower limbs from fork tines
Can be customised if required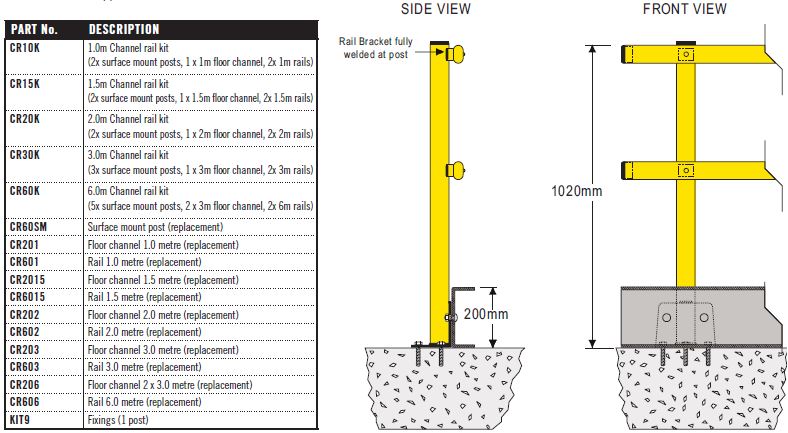 SPECIFICATIONS:
Description:
Modular forklift separation system
Material:
Posts – 60.3mm dia. x 1020mm high, 3.6mm wall.
Safety yellow powder coat
Rails – 30 x 60 x 1.6mm galvanised oval tube. Safety yellow powder coat
Channel – Heavy duty 200 x 75 x 6mm channel galvanised finish
Weight:
7.4kgs posts
2kgs rails per metre
15.5kgs channel per metre
Installation:
3 off 12 x 60mm masonry anchors per post (supplied)