Spacecase Storage Containers. Modular 620 / 1240 Series interlock and cross stack with all other Containers in the 620 / 1240 Series Range listed below. They are available in two standard colours being Grey or Blue, with other optional colours as listed below.
Ideal protection against harsh environmental conditions as they are highly durable, impervious to most chemicals and moisture and will not dent or rust.
The range of Spacecase Storage Containers provide ideal storage and transit protection for contents ranging from general purpose containers to more specialised packaging of equipment ranging from radio equipment, computing equipment, and various other specialised Defence Equipment.
Features of Spacecase 620 / 1040 Series Containers
Made from a high strength UV stabilised polyethylene material
Cross Stackable and Interlocking with other cases within
this series only, for safe and secure palletisation
High strength. Will not rust or dent
Dust, Oil and Water resistant
Padlockable catches Zinc Plated and E-coated
Stainless Steel hardware also available
Recessed Hardware protected from impact
Snag free exterior
Comfortable Rubber grip Carry Handles
Large Range of Sizes
Standard Colours Blue and Grey
Optional Colours Orange, Red, Yellow, Light Blue, Light Green, Dark Green, Khaki, Black
Various models also have can be supplied with trays.
3 year Warranty
Designed and manufactured in Australia
Large range of optional accessories , including drains. vents, feet, trolleys and much more. (See brochure below)
For Complete Range of Spacecase Containers see the Brochure Below.
Spacecase Model

Order Code

L x W x H mm

Opening mm

Internal mm

Volume

Weight

623131 Blue

BG062031031 BL

620 x 310 x 310

540 x 235

570 x 265 x 230

0.06

5.8kg


623131 Grey


BG062031031GY

620 x 310 x 310

540 x 235

570 x 265 x 230

0.06

5.8kg

623145 Blue

BG062031045 BL

620 x 310 x 450

540 x 235

565 x 260 x 375

0.086

7.8kg

623145 Grey

BG062031045GY

620 x 310 x 450

540 x 235

565 x 260 x 375

0.086

7.8 kg

Tray 620x310



BG062TRAYBK

N/A

N/A

626231 Blue


BG062062031BL

620 x 620 x 310

545 x 545

570 x 570 x 230

9 kg

626231 Grey


BG062062031GY

620 x 620 x 310

545 x 545

570 x 570 x 230

9.kg

626245Blue


BG062062045BL

620 x 620 x 450

545 x 545

570 x 570
x 380

0.058

12kg

626245 Grey


BG062062045GY

620 x 620 x 450

545 x 545

570 x 570
x 380

0.058

12 kg

626267 Blue


BG0620667BL

620 x 620 x675

540 x 540

555 x 555 x 615

15kg

626267 Grey


BG0620667GY

620 x 620 x 675

540 x 540

555 x 555 x 615

15kg

1246231 Blue


BG124062031BL

1240 x 620 x 310

1155 x 540

1185 x 565
x 230

0.238

18kg

1246231 Grey


BG124062031GY

1240 x 620 x 310

1155 x 540

1185 x 565
x 230

0.238

18kg

1246245 Blue


BG124062045BL



1240 x 620 x 450

1155 x 540

1185 x 565
x 365

0.346

28kg


1246245 Grey



BG124062045GR

1240 x 620 x 450

1155 x 540

1185 x 565
x 365

0.346

28kg

1246267 Blue


BG124062067BL


1240 x 620 x 675

1170 x 540

1185 x 565
x 595

0.515

32kg


1246267 Grey



BG124062067GR

1240 x 620 x 675

1170 x 540

1185 x 565
x 595

0.515

32kg
These Rotationally moulded transit cases have been supplied to the Australian Armed Forces and various Defence Forces Worldwide. The extensive range of Storage Containers are proven tried and tested units worldwide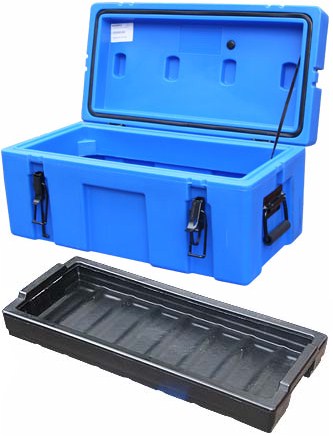 Complete Spacecase Brochure Including all Measurements Internal & External