The P150 Fibreglass Platform Stepladder is an Electro-Safe Ladder with a large platform, yet is lightweight and portable with a range of features aimed at improving safety and productivity.
Useful for painters, maintenance, electricians, DIY
Features of the P150 Fibreglass Platform Stepladder
Fibreglass Platform Stepladder, Temporary Work Platform
Magnetised Handrail / Accessory holder - secures tools and fasteners.
Handrail 900mm height from platform
Electro-Safe Non-conductive
Industrial Strength 150kg Load Rated - suitable for industrial work sites
Large Platform (508 x 416mm) for comfort and stability
Anti-slip Checker Plate deck pattern
Large Anti-slipfeet for maximum stability and durability
Made to Australian and New Zealand Standards AS/NZS 1892.3
150kg Load Rated
Available with 3, 4, 5 or 6 steps
Optional Accessories Available -
Retractable Castors/Wheels Kits - for improved mobility and productivity
Safety Gate Kit - adds security to the work platform
Part Number
Weight
Steps
Platform Height
Reach Height
Closed (HxWxDmm)
Opened (HxWxDmm)
FS13576
12.1kg
3
0.9m
2.9m
1902 x 650 x 160
1773 x 650 x 921
FS13577
13.8kg
4
1.2m
3.2m
2206 x 688 x 160
2064 x 688 x 1077
FS13578
15.4kg
5
1.5m
3.5m
2510 x 726 x 160
2355 x 726 x 1233
FS13579
17.5kg
6
1.8m
3.8m
2814 x 764 x 160
2646 x 764 x 1389
Accesssories
FS13584
3.5kg
Castor Kit
FS13952
2.7kg
Bailey Safety Gate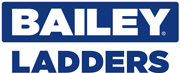 For heavy duty industrial trade/commercial use by professional
contractors, tradespersons, workplaces, serious DIY/handyman. Made to
the requirements of the Australian and New Zealand Standards AS/NZS1892.