Rubbermaid 9T78 Executive Compact High Security Hooded Housekeeping Cart
High Security, Hooded Housekeeping Cart is lightweight and ergonomic in design. Dual access, lockable cabinet. Includes Two Caddies and Lobby Dust Pan/ Vacuum Holder. Includes 2 x heavy-duty zippered Compact Fabric Bag with waterproof PVC liner. Has Bucket / Bag Platform and Waste Cover and Comfort Grip Handles.
Use in Hotels, Hospitals, Resorts, Offices.
Features of Rubbermaid 9T78 High Security Hooded Housekeeping Cart
Hygienic, Structural Web Plastic construction.
Made from Non-rusting and easy cleaning aluminium and highly durable structural web plastic
37% more compact footprint when folded than our standard size 6189
Includes locking Security Hood and Cabinet Doors
Hood can be left unlocked for easy access
Hood accessible from both sides for efficient use
Rubber tool grips hold tools upright
Two removable 9.5 litre Disinfecting Caddies
2 x Vinyl Heavy Duty Waste Bags
Vacuum Holder and bungee for transport of vacuums or pulse mop
0.14m3. of cabinet area (W40.5 cm x H 78.5cm x D 68.5cm)
Hooks hold up to 4 Safety Signs
Quiet 10cm Swivel Castors and 20cm Wheels for easy manoeuverability
Comfort Grip cart handles can be gripped on the sides for easier turning.
Order Code
Rubbermaid 9T78 High Security Housekeeping Cart 9T7800 BLA
Optional Extras

9 pocket Fabric Organiser
Trash Cover with Storage Compartment
4.8 Litre Disinfection Pails Set of 4 Colours
9.5 Litre Yellow caddy
9.5 Litre Black caddy
Slim Jim 87 Litre Container
Specifications of Rubbermaid 9T78 High Security Housekeeping Cart

Structural web plastic and aluminium construction
10cm swivel castors and 20cm wheels
Lockable security hood and cabinet doors

134 cm
57 cm
131.4 cm
Requires Assembly
Shipping Information
Carton Dimensions 61cm x 100cm x 69cm
Carton Cube 0.41m3
Ship Weight Carton 35.91kg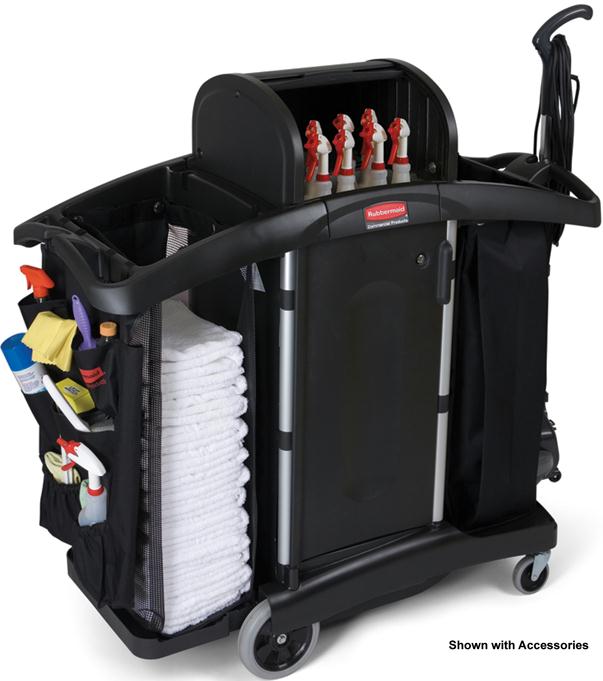 Rubbermaid 9T78 High Security Housekeeping Cart

Housemaid Carts Housekeeping Trolleys Range PDF