ProHost Mobiles by Hostar International Inc. allow for a smooth and controlled delivery of minibar items to guestrooms.
The lockable roll-up tambour doors secures the contents.
Totes are color coded to identify the contents.
The tambour door keeps items in the Cart secure and out of sight when closed. The Cart may be locked when left unattended.
Carts are designed with curved corners and revolving bumpers to minimize damage to walls and doors.
The Prohost Boutique Minibar Cart features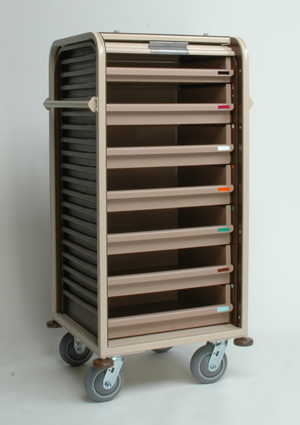 Dimensions: 950 x 590 x 1320mm O/A
Colours: Availaible in Silver/black or Tan/Brown
Please contact us for pricing as all ProHost is Price on Application due to your products being quoted to suit your specific requirements and fluctuations in the value of the US$
For full details regarding the ProHost Minibar Systems we refer you to the Hostar International Inc. website.