Rectangular Rotomoulded Tub Trolleys with Tapered Sides and Castors are extremely versatile and are used in a large number of industries.
Can also be supplied without wheels.
Can be used in laundries, hospitals, aged care centres, motels, food preparation companies, abbatoirs and warehouses.
Useful for soiled linen collection, for order picking, food storage, meat waste and liquids.
Features of Rectangular Rotomoulded Tubs
Made from Food Grade polyethylene (FDA Approved)
Easy to clean smooth surface
Large Colour Range Blue, Light blue, Black, Light Green, Lime green, Red,
White, Yellow, Purple, Magenta, Orange, Teal Grey
Tapered Sides
Nestable for storage or transport
Bolt on dolly for wheels
Stainless Steel base and castors for use with food industries
Range of Sizes 150, 350 and 450 Litre capacity

Options
Choice of castors
125 mm Blue Rubber, 125mm Grey Polyurethane, 125mm Black Polypropylene
Castor configuration
2 fixed and 2 swivel Brake
2 fixed and 2 Swivel no brake
2 swivel brake and 2 swivel no brake
4 swivel no brake
Bolt on Dolly
Stainless Steel base with Castors, to eliminate risk of contamination, entirely suitable for the food industry
Weatherproof Lid
Bolt on Push Handles for easy manoeuverability
Egonomic, Coil Spring Rising Bases for easy transfer on contents -
Coil spring rising base with Poly top
Coil spring rising base with Gal top
Hanging Spring Rising Base
Drain Bungs and Drain holes for drainage of liquids
Straight sided bins also available
| | | |
| --- | --- | --- |
| Part No. | Description | Dimensions - Add 150mm incl. dolly with standard 125mm castors |
| TRT150 | Mobile 150 Litre Tub | |
| TRT350 | Mobile 350 Litre Tub | |
| TRT450 | Mobile 450 Litre Tub | |
| DTRT150 | Tub Only 150 Litre | Length 810(rim)/670(base), Width 570(Rim)/430(Base) Height 500mm |
| DTRT350 | Tub Only 350 Litre | Length1020(rim)/880(base), Width 720(Rim)/580(Base) Height 625mm |
| DTRT450 | Tub Only 450 Litre | Length1320(rim)/1180(base), Width 720(Rim)/580(Base) Height 625mm |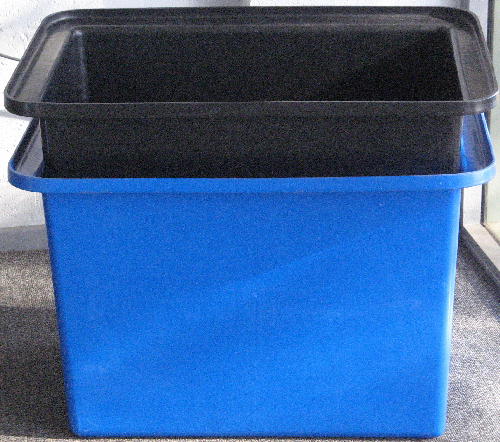 Nestable for Compact storage and shipping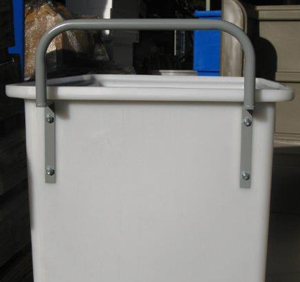 Optional Bolt on Handle