Gator Spill Control Funnels
Large diameter Funnels provide a simple cost effective way to collect and control liquids and keep drum tops clean.
Features of Gator Polyethylene Spill Control Funnels
Gator Polyethylene Spill Control Funnels fit all closed head 30- and 55-gallon drums.

Low profile, wide diameter opening gives a large "target" for quick, easy pouring.

Scalloped, sloping design minimizes splash and stops containers from resting in their own liquids.

Helps keep floors clean

Large flat well at the throat of funnel allows for passive draining of paint cans, filters, buckets and other containers.

Funnel cover available - optional purchase

Moulded-in hook makes a convenient way to store funnel cover.

Funnel for flammables available. See Below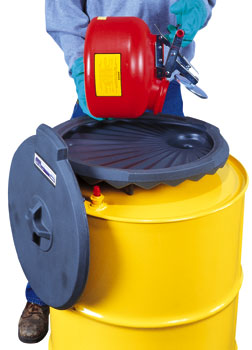 Gator Polyethylene Funnel for Flammables
Includes a drum fill vent with 6" perforated brass flame arrester.
Threaded bung cap seals in flammable vapours under normal storage conditions.
In high temperatures, pressure relief valve opens to protect drum and prevent explosion.
Flame arrester prevents fire flashback. It also offers vacuum relief by allowing hot contents to cool,
protecting against drum collapse.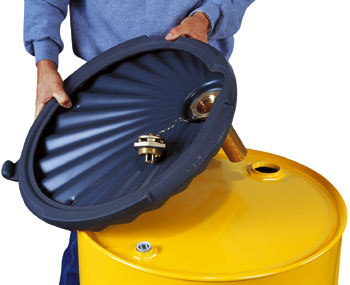 | | | | |
| --- | --- | --- | --- |
| | Product | Sump Cap. | Outside Dim. |
| Model No. | Description | (Litres) | W x D x H |
| 28210 | Funnel for non- flammables | 9.5 | 53.3cm x 8.2cm |
| 28211 | Funnel for flammables | 9.5 | 53.3cm x 8.2cm |
| 28215 | Cover for funnel 28210 | - | 48.2cm x 3.1cm |