FRP Stair Nosing - Anti Slip, Stair Edgings
Anti Slip Stair Nosings are easily attached to the edges of steps, ladders and walkways. Provide a gritty, non-slip surface, to prevent accidents.
Features of FRP Stair Nosing
Comply with AS 4586.2013
Come in many sizes, ready to install
Can be cut to fit
Can be fixed mechanically or glued
Fibreglass composite intergrated with anti-slip grit
Safety yellow
No steel to corrode or rust
Won't chip or delaminate
Remains stable in extreme temperatures
Resists harsh weather
High resistance to chemical attack
Manufactured in Australia
Order Codes See Table Below
Specifications of FRP Stair Nosing
Industrial strength anti slip stair nosing
Fibreglass composite with integrated anti-slip grit
Why fiberglass is better: Produced in a one step manufacturing process where a colour pigmented, fire retardent resin is interpersed with layers of immensley strong interwoven glass fibre.
A diamond hard fused alumina anti slip grain is forced under pressure into the base mix while it is wet.
A Final Resin layer laid over the top complete the entrire composite mix before being cured until full set.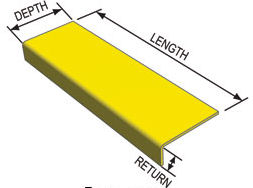 | | | |
| --- | --- | --- |
| PART No. | DESCRIPTION (Length x Depth x Return) | Colour |
| BSN45075 | 450 x 75 x 20mm | Yellow |
| BSN60075 | 600 x 75 x 20mm | Yellow |
| BSN75075 | 750 x 75 x 20mm | Yellow |
| BSN90075 | 900 x 75 x 20mm | Yellow |
| BSN103075 | 1030 x 75 x 20mm | Yellow |
| BSN120075 | 1200 x 75 x 20mm | Yellow |
| BSN450150 | 450 x 150 x 20mm | Yellow |
| BSN600150 | 600 x 150 x 20mm | Yellow |
| BSN750150 | 750 x 150 x 20mm | Yellow |
| BSN900150 | 900 x 150 x 20mm | Yellow |
| BSN1030150 | 1030 x 150 x 20mm | Yellow |
| BSN1200150 | 1200 x 150 x 20mm | Yellow |
| FIX1172 | ST/ST saddle assembly (1 x saddle, M6 x 35mm bolt & M6 nut) | |

FRP Anti Slip Stair Nosing, Panel and Ladder Rungs PDF