Car/Truck Washpad / Washbay. Constructed from, PVC and is ready for use in minutes.
Use in Vehicle parking or storage situations. Mobile Car and Truck Detailers , Tanker Deliveries and during repairs where there is a possibility of spills.
Use with Washpad Pump ( See Below)
Features of Car/Truck Washpad / Washbay

Constructed from 900 gm per m2 PVC
Weight only 20kg
Compact and easily portable
Makes compliance with EPA simple and cost effective
Unit shown 3m x 6 m
Folds down to 600 x 800 x 350mm
Custom sizes available
Sets up in minutes
Foam filled ends compress to allow drive-through use.

Order Code: TSSWPS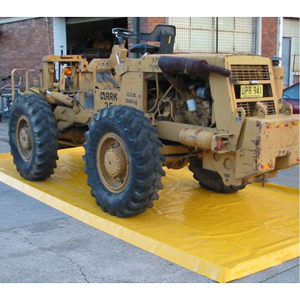 Car/Truck Washpad
Washpad Pump
The Spill Station® Battery Box & Pump is designed to used in conjunction with the Washpad. Place a standard automotive battery into the water resistant marine battery box, attach it to the terminals and flick the switch. It comes standard with 2 metres of hose. It is recommended to check which filter is required for draining purposes, such as oil and water, etc.
Order Code: TSSBBP