Rubbermaid 1835528 Pulse Single Sided Mopping Kit Clean more square area in less time with the new Rubbermaid Pulse Single Sided Mopping Kit. Industry-best microfibre mop with on-board reservoir, to hold cleaning fluid.
User-controlled release of solution means cleaner floors faster, easier, and more effectively.
Features of Rubbermaid Single Sided Pulse Mopping Kit
High Capacity Reservoir with clear window allows easy monitoring of cleaning fluid
Red ergonomic trigger handle dispenses three streams of cleaning solution with each press
60 mls of cleaning fluid cleans 80m2 floor
Lightweight construction - weighs only 1.8kg when fully loaded with solution.
Use with Refill Caddy Q966
40cm Quick-Connect Frame included.
Also works with Rubbermaid 28cm and 60cm Quick-Connect Frames and Pads.
Order Codes:
Pulse Mop: 1835528
Refill Caddy: FGQ96600 0000
Pads
FGQ41000 GR00 Green Microfiber Wet Pad (12 Pack)
FGQ41000 RD00 Red Microfiber Wet Pad (12 Pack)
FGQ41000 BL00 Blue Microfiber Wet Pad (12 Pack)
FGQ41600 BL00 Microfiber High Absorbency Pad (6 Pack)
Shipping Dimensions for Rubbermaid 1835528 Pulse Single Sided Mopping Kit
Carton Cube: 0.02m3
Ship Weight / Carton 2.59kg
Carton Dimensions 143cm x 13cm x 10cm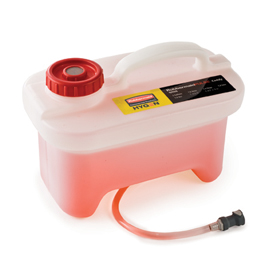 Refill Caddy FGQ96600 0000