Post Style Shelving with Wire Grid Shelves
Strong stylish shelving for front of shop use.
Rolled frame gives a smart look as well as space for price and product signage.
Features of Post Style Shelving with Wire Grid Shelves
Strong with stylish design
Wire grid shelving with solid rolled sides is easy to clean
Steel corners are fully welded for extra strength
Come with 12 month Structural Warranty against manufacturing faults
Many Accessories Available (See Below)
Specifications of Post Style Shelving with Wire Grid Shelves
Shelf Frames are welded 32 mm x 2.5 mm roll formed section
Wire Grid of 4 mm wires spaced on 8 mm cross supports spaced at 25mm centres
Shelf lengths from 600 mm to 1800 mm available in increments of 150mm.
Width can be 300, 375, 450, 525 or 600mm deep
Posts are manufactured from 25 mm x 25 mm x 1.2 mm tube fitted with
a Mantova bullet foot allowing 32 mm of adjustment
Standard post heights are 1200 mm, 1800 mm or 2000 mm high
Finishes Available in Zinc Lacquered, Polished Stainless Steel,
Hot Dip Galvanised and Powder Coat finishes.
All Shelving is Priced on Application
Please contact our office for a quote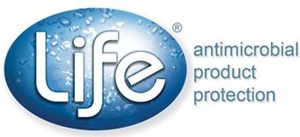 POST STYLE ACCESSORIES
Bridge / Corner Clips allow uninterrupted access where corner or bridge assemblies are required.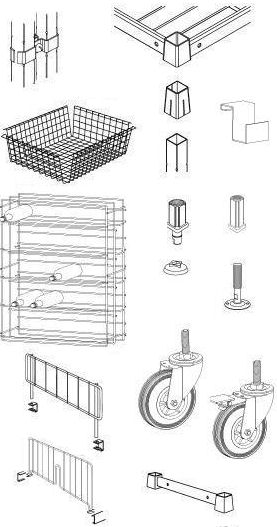 Post Clamps allow adjoining assemblies to be locked together.
Wire Back/ Side Ledges attach to wire grid shelves with clips to provide product stops.
Shelf Dividers available for wire grid shelves.
Product Stops of up to 3 sides available for ABS shelves.
Tray Slides can be fitted between two wire grid shelves.
Side Panels / Rear Panels of wire grid mesh are available.
No.10 Can Modules will fit 450mm deep frames to accommodate up to 6 cans each.
Vegetable Baskets made from zinc lacquered wire mesh drop in to frames.
Wine Modules either bulk or individual modules can be housed in 300 mm or 450 mm shelf assemblies.
Post Joiners will allow extension of post height on existing installations.
Shelves of solid S/S or Gal can be used in place of ABS shelves on frames. May require additional braces for support.
Castors may be fitted to the bottom of posts in place of feet.
Rubber Buffers are available.
Disc Feet may be used instead of standard bullet feet by using threaded inserts in posts.
Foot Pad may be used on standard bullet Foot.