Sumner Series 2000 Material Lift
A Compact Lifter, with a stronger mast and improved, superior cabling system. Designed for use with heavy materials such as steel beams and contnuous work.
The shorter mast sections allow the 2000 to travel through doorways without tripping, and fit into vehicles with a smaller storage capacity.
Features of Series 2000 Material Lift
Sumner-built winch which is highly reliable
Inside-Mast Cable Feed for worker safety
Idler roller feeds four rollers, and feeds cable evenly onto the drum and avoids flats
Cable Stay Brake - Each mast and carriage can have a factory installed, gravity actuated safety brake,
to hold loads in place in the event the cable should go slack.
Pulley Guards to prevent cable coming off
Loading Bar - good for overhead cranes
Reversible Forks can be repositioned to give added height or to become flush with the ceiling -
Simply pull plunger pins
Lockable 5" Castors - Hard tread, urethane, with Delrin bearings
10" Rough Terrain Wheels for hassle free loading onto truck or van (optional on series 2000)
Fast Action Stabiliser Legs mounted on base top. Simply fold down and lock in place. Optional on 2010, 2015
Galvanised steel finish
Optional Extras See Below
| | |
| --- | --- |
| Reversible Forks | Ideal for compact Storage |
| By pulling plunger pins, forks can be repositioned for added height or just to get flush with the ceiling. | No tools or loose hardware. Leg lock mechanism releases with the push of a button then locks in the stored position. Leg rollers allow lift to be wheeled around. Forks remove by pulling plunger pins. |
| | | | |
| --- | --- | --- | --- |
| Part Number | 2010 | 2015 | 2025 |
| Description | Material Lift | Material Lift | Material Lift |
| Raised Maximum Height | 2.9m | 4.3m | 7.1m |
| Max. Height Forks Reversed | 3.5 m | 4.9 m | 7.7 m |
| Max. Lifting Capacity | 455 kg | 360 kg | 300 kg |
| Shipping Weight | 104.4 kg | 143.2 kg | 211.4 kg |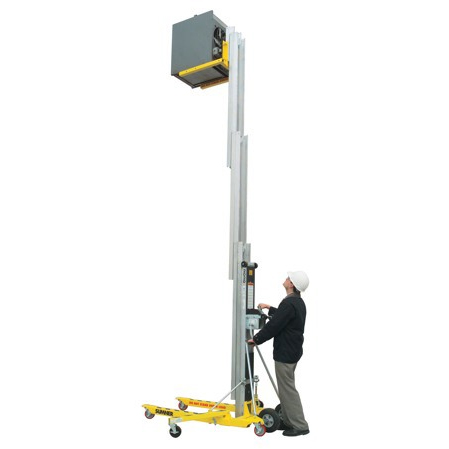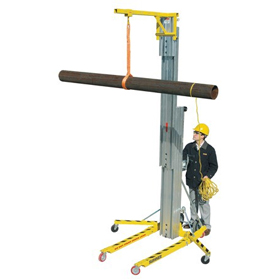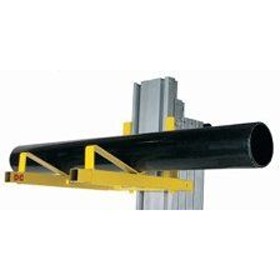 Optional Extras:
Fork Extensions - With the push of a button, fork may be extended from 71cm-106cm. With longer forks the capacity decrease to 90kg. A second button returns the extension inside the forks.

Boom Carriage - Ideal for installating pipe or lifting "from the top"applications. Uses four attaching plunger pins and has a 100cm reach. Hook has five locations with load capacities of 300kg, 240kg, 195kg, 135kg and 90kg.

Pipe Cradle - Great for duct pipe or other HVAC appliacations. Slides over standard forks. Packaged in sets ot two.