Gator Drum Management System Organises drum storage for maximum efficiency, productivity, and cost savings.
Meets safety and environmental protection requirements.
Features of Gator Drum Management System
Design accommodates either 60 or 205 Litre drums of flammables and combustibles liquids.
Suitable also for storage of non-hazardous liquids.
UV protected polyethylene construction gives maximum chemical compatibility and resistance,
preventing corrosion and deterioration, assures a long lifetime of service.
Moulded-in drum lock channels hold drums in place.
Optional strapping can be slipped through hold-down slots for additional safety or transport by forklift.
Open View Sump makes spill detection easy
The system consists of three modules: Base, Stack and Dispensing Shelf.
The Base Module
The key component of the system.
Designed to accommodate two drums with a load capacity of 675Kg. in total.
The dispensing well conveniently holds either 20 Litre safety cans or 20 Litre pails.
Forklift channels facilitate relocation within the plant.
The system spill containment sump is located in the module.
Spills, even drips,of hazardous chemicals, are easy to spot and quickly cleaned up with this wide open design.
Dimension (W x D x H): 1245 x 1499 x 660mm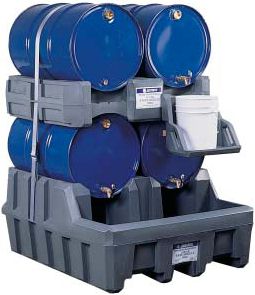 Order Code: 28667
The Stack Module
Doubles system capacity holding two additional drums.
Load capacity is 675kg
When storing both 205 or 60 Litre drums the smaller drums should be placed on top, in this stack module.
Do not mix lower drum sizes when double stacking.
Dimension (W x D x H): 1245 x 1168 x 305mm
Order Code: 28669
The Dispensing Shelf

Has a load capacity of 25kg
Mounts securely to the stack module for convenience in dispensing from the upper level.
Order Code: 28671
Open View Sump makes spill detection as easy as a simple glance