Hospital Grade Disinfectant. VIRA SAN has been proven to kill COVID-19 (SARS-CoV-2) in 60 seconds.
TGA Approved for COVID-19 claim (ARTG No. 340431). The synergy between Hydrogen Peroxide and Benzalkonium Chloride is an effective way to mitigate the threat of COVID-19, germs and bacteria (S. aureus, Pseudomonas aeruginosa, Salmonella choleraesuis).
Vira San is safe to use on almost all hard surfaces. Easy to use, simply spray, wait and wipe. Effective sanitisation within 1 minute. Formulated and developed in line with guidelines published by the World Health Organisation (2020).
VIRA SAN Hospital Grade Disinfectant, cleaner and sanitiser, that is ready to use as a spray on and wipe off disinfectant for washable surfaces.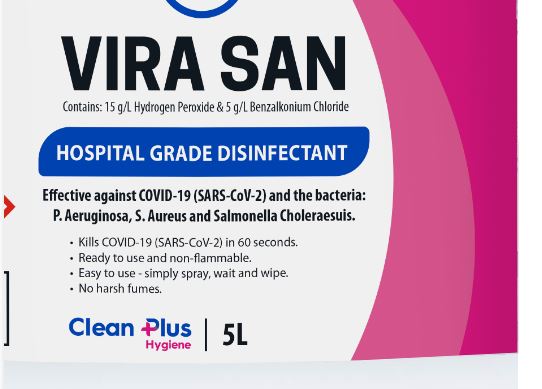 Vira San is specially formulated disinfectant that is effective in killing viruses at their core within 1 minute of contact. Contains Hydrogen Peroxide + Quat based (as per WHO guidelines)
Hospital Grade disinfectant that contains Hydrogen Peroxide and Benzalkonium Chloride in safe levels and is proven and effective in mitigating the threat of germs, viruses and a range of bacterias.
Vira San can also sanitise hard surfaces such as glass, plastic, metal and steel. also high touchpoint areas: tables, taps, sinks, faucets, toilets, kitchen surfaces, doorknobs, light switches, play structures, exercise equipment, school equipment, escalators, elevators. NB: spot test on surface before use.
Features of VIRA SAN Hospital Grade Disinfectant
Specially-formulated
Hospital-grade
Non-corrosive
Safe to use on most surfaces
Contains: <2% Hydrogen Peroxide, <1% Benzalkonium Chloride
Bottle Dimensions: 30 x 20 x 15cm
Bottle Weight: 5.1kgs
Bottle Capacity: 5 Litre

Vira San Safety Data Sheet


TGA ARTG CERTIFICATE