W-Beam Curved Rails Guard Fence (TYPE D)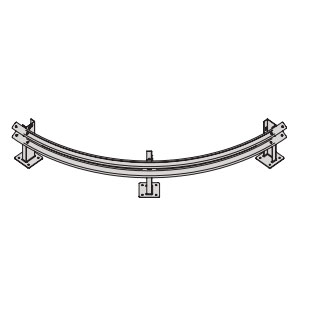 Price:
AUD $438.90
(Ex GST AUD $399.00)
Heavy Duty Curved W-Beam Guard Fence (Type D) Curved W-Beam 45 degree and 90 degree Steel Fences. Can be paired with Ball Fence Hand Rail System. Protect Pedestrians and Assets, from collisions with slow moving vehicles, in and around schools, car parks and commercial and industrial premises. Modular design provides a multitude of choices in configuration.
Features of Heavy Duty Curved W-Beam Guard Fence
Complies with VicRoads SD3671-E requirements for 'Type D' guard fence
*Non-Highway Applications. Shall only be used where impact speeds are less than 30km/h.*
Heavy Duty Steel construction
Can be paired with Ball Fence Handrail system
NOTE Ball-Fence posts should be on the pedestrian side of W-Beam posts
External and Internal Curved Guard Rails
45 degree and 90 degree curves
Surface Mount or In-Ground
Hot dipped galvanised finish
Large choice of rail lengths, post options and accessories
Posts supplied with fixings
Easily Configured to suit most non-highway applications
Simple to repair or modify
Interchangeable with competitors W-Beam Systems
Order Codes
See Tables Below
Specifications of W-Beam Curved Rail
Material Rails Mild Steel 2.75mm thick.
Eight standard lengths
Posts Mild Steel 178 x 76 x 6mm

Weight Rails 13kgs per metre approx.
Posts 18kgs each approx.