Enviro Crate Security Crate has a capacity of 68 litres and is made from high grade polypropylene and is a cost effective option compared to containers made from virgin material.
Enviro Crate Security Crate suitable to a variety of purposes including archiving, security and transportation.
Features of Enviro Crate Security Crate
Permanently attached hinged lid
Internal hanging rails for hanging files files
Easily lockable with a one way tie or small lock
Stacks with lid closed then nests when empty to save space
Economical Choice (cheaper than Food Grade Version)
Enviro Skate to suit
Good Environmental Choice Australia (GECA) certified
Australian Made
Enviro-Crate range is independently tested and approved to international standards of environmental impact.
Specifications for Enviro Crate Security Crate
Material: Recycled Polypropylene Base
Weight: 4000gms
Dimensions: 630mm x 450mm x 315
Colours: Black with Black lid
Order Code: AP68R

Also Available - EnviroSkate (Sold Separately) to Suit Security Crates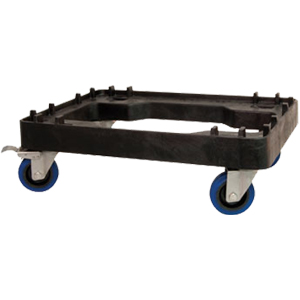 Enviro Crates are the only choice for the environmentally responsible business. They are strong, made from 100% recycled materials, stackable and made from high grade polypropylene.