Cox Rotomoulded Containers 250 Litre with straight sides are ideal for general purpose rubbish, liquids and linen collection.
Heavy Duty Rotomoulded construction. Food Grade material.
Features 250 Litre straight sided tubs
Suit a wide range of uses including food industries, hospitals, aged care facilities, motels and abattoirs etc.
Features of 250 Litre Rotomould tub with straight sides
100 Percent Foodgrade Virgin Material
Easy cleaning smooth non ribbed surface
Optional bolt on handle for easy manoeuvering
Can be used with rising base insert to prevent back bending and twisting injuries
3mm Galvanised base plate
Fitted with 4 swivel 125mm quality Grey rubber castors - Braking Castors Sold separately
Length 1150mm, Width 635mm, Height 650mm.
Additional Options
Alternative castor types
Ergonomic bolt on handle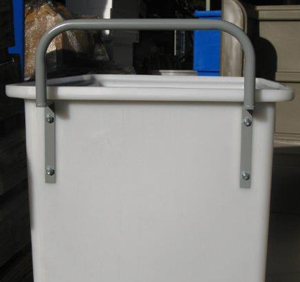 Optional Bolt on Handle