Blade Runner One Way Access Road Spikes
Designed to discourage vehicles from entering an area from the wrong direction. Each module has independently retracting teeth.
When drivers attempt to cross the metal teeth from the wrong direction the teeth lock up and cause almost certain tyre damage. When cars approach from the correct direction the teeth simply retract, allowing the vehicle to proceed.
Features of Blade Runner One Way Access Road Spikes
Consist of 1000mm or 500mm Heavy Duty Steel Module + Steel End Caps
High-Visibility Lime Green Powdercoat finish with Orange Teeth
Low profile for adequate vehicle clearance
Low ramp angle and reduced height for soft approach
Lower noise than older style products
Up to 8 fixing points per metre
Revolutionary new spring design for long life
Low maintenance
Please note: Always check with your local authority or controlling body to ensure one way access spikes are allowable in your situation (this is the end user's responsibility).
Blade Runner one way access spikes MUST ALWAYS BE INSTALLED WITH AN AWARENESS SIGN KIT (P/N BRSKIT).
One way access spikes should always be placed clear of intersections and curved roadways. Failure to heed these warnings will void all warranties.
Order Codes Blade Runner Access Spikes
See table Below
Specifications of Blade Runner One-Way Access Spikes
| | |
| --- | --- |
| Description: | One way access spikes |
| Finish: | Lime green powder coat |
| Top skin: | 6mm floor plate |
| Length: | 500 or 1000mm |
| Width: | 380mm |
| Height: | Teeth up 95mm |
| | Teeth retracted 50mm |
| Weight: | 500mm - 13kgs approx |
| | 1000mm - 26kgs approx |
| | Ends - 5kgs per pair |
| Fixings: | 500mm - 4 (supplied) |
| | 1000mm - 8 per (supplied) |
| | |
| --- | --- |
| Part # | Description |
| BRS1000 | Blade Runner one way access control 1000mm complete with fixings |
| BRS500 | Blade Runner one way access control 500mm complete with fixings |
| BRSE | Blade Runner end caps (pair) |
| BRSKIT | Blade Runner - warning sign kit |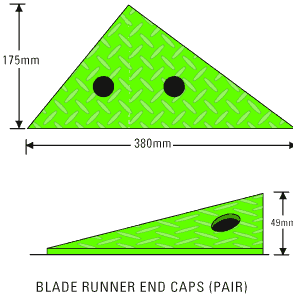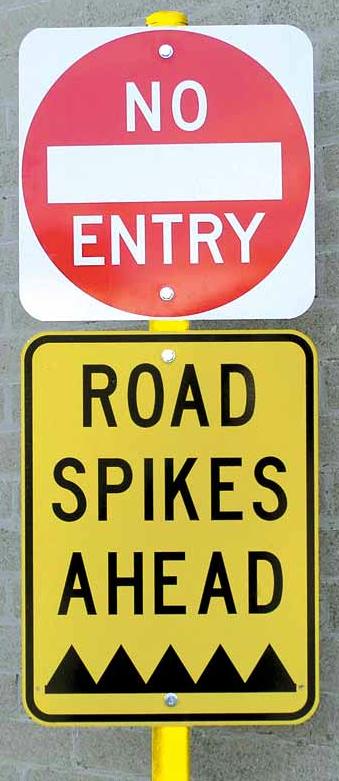 Blade Runner One Way Access Spikes PDF