Designed to be an economical, lifetime shelving system.
Constructed with a subframe, moulded over with a Food Grade Polypropylene surface.
Reduces the cost and the carbon footprint. Benefits both the customer and the environment.
Features of M-SPAN Cool Room, Freezer and Dry Store Shelving
HACCP Australia Approved
Has built in Life Antimicrobial Protection
Suitable for coolroom, drystore and freezer use.
Temperatures from +90 deg C to -30 deg C.
Clear Access Corners, and Add On Bays, using shelf clips,
eliminate 2 posts (See picture below)
304 grade Stainless Steel or Galvanised Posts
Holes in the large, flat, open shelves, enhance airflow during storage
Easy to assemble without tools
Warranties on shelves and posts (See below)
Shelf dimensions
Shelf Widths - 310mm, 460mm and 610mm.

Shelf Lengths - 600, 750, 900, 1050, 1200, 1350 and 1500mm
Post Height
3 tiers 1200mm High

4 tiers: 1800mm High
5 tiers: 2000mm High


Weight Loading

M-Span shelves Sizes up to 1200mm long, evenly spaced Rated to 200kgs per tier
Sizes 1350mm and1500mm, evenly spaced are rated to 150kg per tier

Shelf Clips Rated up to 150kg up to 1200mm shelf length
100kg for 1350mm and 1500mm long shelves.
Assembly M-Span Shelving is quick and easy to assemble . No tools needed..
Clear Access Corners and Add On Bays use stainless steel M-Span shelf clips eliminating 2 posts.
All posts come with nylon adjustable feet.
Warranty M-Span Shelves: 20 Year Non Corrosion Warranty
+ 12 Months Structural Warranty against manufacturing defects.
Posts Warranty Both stainless and Galvanised Posts have a 12 Month Structural Warranty against manufacturing defects.
Environment The energy required to produce M-SPAN shelving has been hugely reduced.
Therefore this system has a smaller carbon footprint.
All parts of the M-Span shelf are recyclable.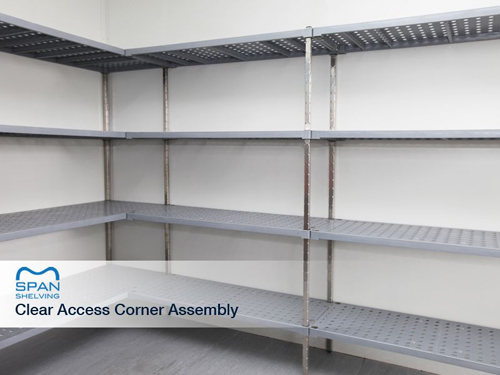 Mantova Shelving Range Printer Friendly PDF